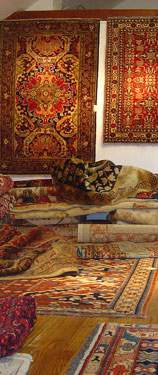 About Carpets
Carpet techniques can basically be divided between hand-knotted pile and those that are flat woven. Capturing exact colorings can be difficult in photographs. The flat-woven rugs and other textiles are easier, since their colors remains the same, regardless of which direction you look at them.

However, with knotted pile carpets, the tonal color will be lighter, or richer, depending on the direction of the light.
In a home, a carpet, or rug (the two words can be used interchangeably), will be seen from many angles as you walk around a room, and color variations add depth and visual interest.